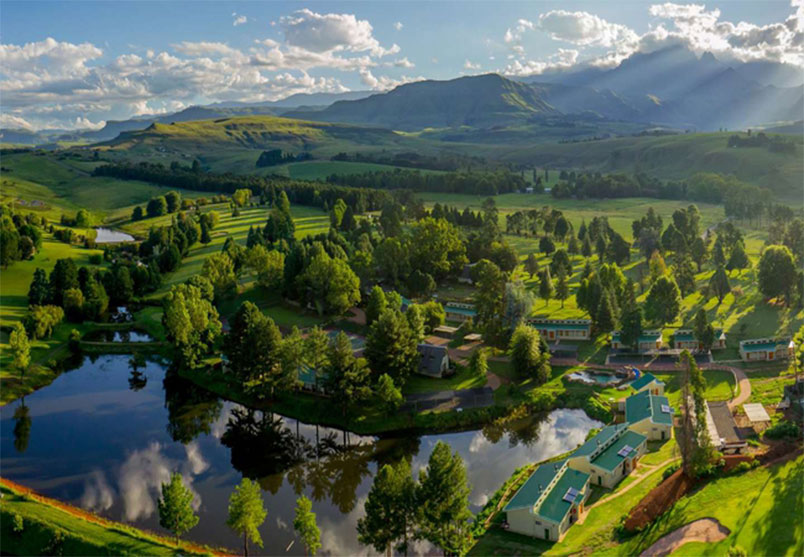 Welcome to Monks Cowl Golf Club
The Gooderson Monks Cowl Golf Resort boasts a 9 hole, 18 tee golf course is certainly one of the most scenic with views of the magnificent Champagne Valley. The mild summer climate coupled with the spectacular backdrop of the Drakensberg make many of the golf courses in the region an attractive option – none more so than the recently upgraded Monks Cowl course. Regarded as one of the Drakensberg's top 10 courses.
It serves as the perfect introduction to the 260,000 hectare Ukhahlamba Drakensberg Park World Heritage site and the Mdedelo wilderness area. The course itself has a couple of dams and a river. It is generally level. The fifth hole is accessed via a swing bridge which crosses the gorge at Hattingspruit. The fairways are planted with Kikuyu, and the greens with Cynodon dactylon. For those golfers still at "caddy" status or wanting some good exercise in the crisp mountain air, there's a pleasant walk around the course. Alternatively motorised golf cars are available.
About
Monks Cowl Golf Club
The Monks Cowl Country Club started out in 1973 and offers cheap golf membership for only R850. You will receive affilition to SAGA (South African Golf Association) which comes with an official SAGA handicap.
The upgrade of the Monks Cowl course came shortly after the resort became part of the respected Gooderson Leisure Group. It wasn't the well-known hospitality group's first foray into golf - which means that Monks Cowl certainly benefited from experience gleaned at the extremely popular Drakensberg Gardens Golf and Spa Resort which is the Southern Drakensberg's only 18 hole golf course.
Join the Golf Club